Presley Martin's Innocence by Emily Kuenstler
June 3rd, 2007 by eleanor - contemporary art criticism TPG2
Presley Martin's oeuvre may be said to exemplify the interdisciplinary pull shared by many young artists today, comprised as it is of several distinct voices: modish, elegant, expressive, and mysterious ceramics vie for attention next to an archive of consumer detritus, painstakingly collected and catalogued in plastic bags. Another trajectory is his text-based work: a wooden specimen case holds found text — excised from the sea of printed matter we produce and discard — each word stuck on the head of a pin, a box poem which rants from within its confine. He acts out of familiarity with topics relevant to both the new crafts movement and so-called "relational aesthetics"; conceptual ritual and post-pop love for civilization's remnants, its clues re-contextualized, reinterpreted.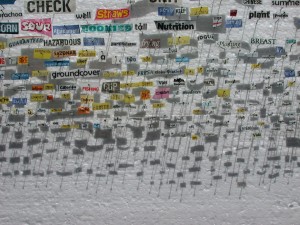 The temptation to experiment with a variety of mediums is great; the challenge to integrate ones predecessors and to retain something resembling an original voice is equally exacting. It is gratifying to see this privilege – that freedom – used so sincerely and to such sensitive ends, as in the case of Mr. Martin. His entire oeuvre bears the mark of originality in its earnest pursuit of an intellectual/ spiritual ideal. I see in Martin's work a consistent, victorious marrying of beauty and intellectual experimentation.
It takes (as the Zen saying goes) "Beginner's Mind," to approach one's life and work this way, and he should be commended for making new what he inherits from influences as diverse as: Lee Bontecou's fatigued/distressed materials bearing a patina of knowing, of age; Tom Phillip's word texts that are scraps and tomes at once; and the heavenly painter Richard Pousette-Dart. His use of black glaze also evokes Allan McCollum's reliquaries, in which a monochromatic grey-black ceramic finish accents forms, silhouettes and micro-form within a larger whole; and of course, Louise Nevelson assemblage. Again, like Nevelson, his love of found objects is balanced with an aesthete's sensitivity to form. Presley shares a quality of understatement similar to Italian arte povera, a sculpture movement that arose in response to WWII and used many found objects to evoke existential states. A true descendent of several converging schools of 20th century art, Martin has forged a unique and fresh working method that authentically rearticulates potent phrases from minimalism, conceptualism, and earth art.
When I first encountered Presley Martin's new piece, "Earth-Kiln-Bay-Kiln-Bay," I recognized its debt to monumental "Earth Art" from the seventies (Heizer, Smithson) and Andy Goldsworthy. But the difference is that of scale, both metaphoric and physical. Though, for example, Goldsworthy uses delicate materials, his impact is of total aesthetic redesign: the forest is completely transformed into his flag of pattern, whatever he may choose. And the Earth Art of the 1970′s specifically took on the entire landscape, seeking a proscenium for sculpture outside institutional walls. Ana Mendieta and Ann Hamilton might be better comparisons for Martin's art where natural materials come into aesthetic play in virtue of personal ritual, in service to the artist's search for meaning. He calls it a piece timed in order "to insert myself into the process."
If pressed, he says, "I would have to say that the amount of waste we are producing isn't good. My work, however, is a description of what happens to an object once it's use value is forgotten; it has a whole second life cracked or stained by its journey to the bay after being thrown away." He is in good company with Nevelson, who said, "When you put together things that other people have thrown out, you're really bringing them to life – a spiritual life that surpasses the life for which they were originally created." The sensibility common across much of Martin's work could be viewed as belief in the magic of objects. In "The Bay Project," objects link us to earlier times. In his process-oriented "Earth-Kiln-Bay-Kiln-Bay" the bricks are part of the ritual which renders them more than their mundane former selves, animated like a tribal map in their final configuration. His text pieces are perhaps the most spare and really highlight the enchantment aspect of his treatment of everyday things: simply by cutting and rearranging the language of advertising circulars and magazines, they become anguished and florid spells/poems.
At some point walking the stretch of Bay beach in Berkeley CA, Martin saw the strewn bricks washed up that would eventually be incorporated into "Earth-Kiln-Bay- Kiln-Bay." In this most recent piece, he calls the original bricks "virgin" in contrast with their white, ceramic-glazed cousins which reappear on the beach, marking the time that has passed and highlighting their man-made status among "real" rocks. So, from the suggestion of production intrinsic in consumer detritus, the artist Martin powerfully inhabits the beach, and personalizes the production of the bricks themselves, becoming a maker of what is found there. This potent metaphor acts in counterpoint to the generally thoughtless chain of consuming and casting off.
One can often glean – but not quite define – sincerity in a given artist's work. It is as if they would do just what they are doing even if everyone stopped watching. This is so palpable in some (including Mr. Martin's work) that it enriches the viewer, like a quiet conversation. To borrow and patchwork together many styles for the sake of relevance or innovation would never nourish the maker the way a gentle digesting of life itself does. In this way the art accrues meaning from contemplation, and observing it makes the world altogether clearer. I find Martin's work especially relevant to the times in which we now live. While the seriousness of world events and crises require daily reckoning with meaning, reclaimed objects inherently illicit new meanings, recontextualized. Rethinking where we have been as a society -and how we have gotten here – is crucial; doing so in a pure, considered aesthetic gesture is restorative.
.
.
Emily Kuenstler is an artist and writer living and working in the San Francisco Bay Area. Her writings have appeared in AfterImage and Stretcher.org.
Comments »
Additional comments powered by BackType