TPG at Unique Los Angeles: This weekend!
December 9th, 2008 by eleanor - blog events news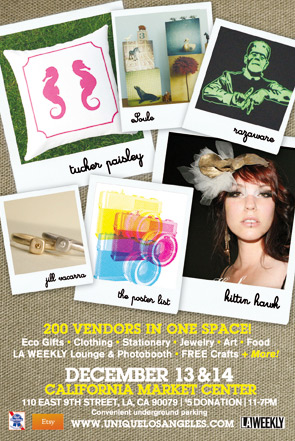 UNIQUE LOS ANGELES is an exciting two-day shopping event that showcases independent design talent at great prices. Just in time for the holiday shopping season, the event brings together 200 of the best designers, artists and merchants. AND we are one of those amazing vendors.  We are sharing a booth with our good friend Lauren at Sweet Meats and it's gonna be great.
There are crafting stations, a funny mod bar/lounge, yummy local food, and tons of shopping.
If anyone is in the LA area and wants tickets- we've still got some free ones for you!  Just email us and we'll leave them at the front desk for you. But if you do buy tickets, 50% of the proceeds go to Create Now! a LA based non-profit working with at-risk youth.
THE DETAILS:
December 13th and 14th, 11-7
California Market Center (Penthouse – whatup)
$5 Admission (unless you get some free tickets from us!)
Comments »
Additional comments powered by BackType