Why, bake sales of course!
July 1st, 2009 by eleanor - arts funding blog neat projects tasty
I just learned about a new attempt at helping artists raise money. Brooklyn based Tracy Candido started Sweet Tooth of the Tiger as "a way to talk with people about dessert," but it has grown into a new funding model for artists projects. Artist submit for "residencies" where they say what project they're trying to raise money for. Tracy sets them up with an event where there will be lots of people to buy their goods (we're talking bake sale – brownies, cupcakes, sugar in all forms) and find out about their project. She meets the artist at the venue, helps out in the selling, takes a small cut of the profit, and interviews the artist for her blog throughout the night. fun!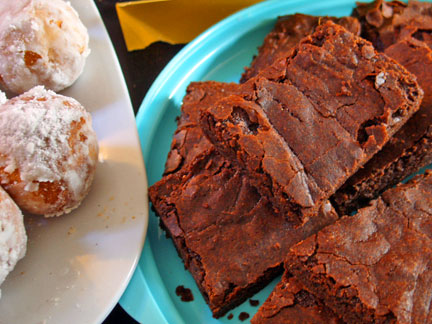 Spicy Dark Chocolate Ginger Brownies at WORK gallery (Brooklyn, NY)
photograph by Tracy Candido
About Sweet Tooth of the Tiger: Sweet Tooth of the Tiger is part entrepreneurial/d.i.y. food service project and part participatory art project that uses sugar as a medium and explores eating as social practice. The project takes the form of a bake sale that utilizes the community and public sphere as a place for eating, feeding, and talking with your mouth full. Sweet Tooth is invited by members of its community to set up a bake sale table at awesome events and engage with participants by exchanging baked goods for some money. Hopefully, participants are activated by their sugar high to engage in conversation with other participants, heightening their awareness of their own social position as well as a broadened perspective concerning their present environment.
Comments »
Additional comments powered by BackType