Art Work at Sight School
December 14th, 2009 by eleanor - art and politics bay area blog events other personal TPG8
Sight School is a new project space run by Michelle Blade and (TPG #11 critic)  Matthew Rana. The space began from a desire to create dialogue around new modes of living and being in the world in order to reveal connections between art and life.  Thier first event is being held on this Friday, December 18th.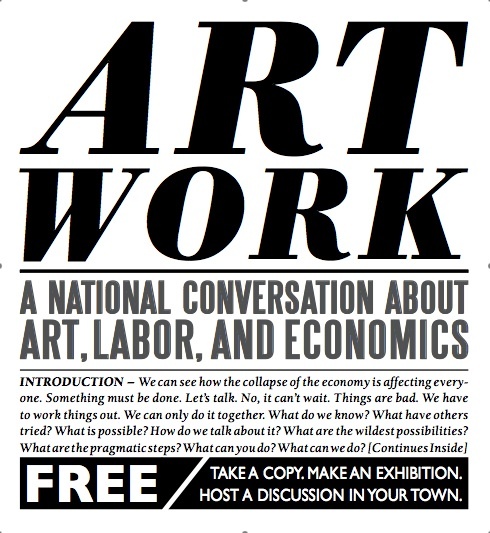 Sight School is pleased to host this one-night exhibition and public reading of Chicago-based collective Temporary Services' newspaper titled, "Art Work: A National Conversation on Art, Labor and Economics."
A handful of local artists, writers and curators including Sean Fletcher & Isabel Reichert, Lynne McCabe, Julian Meyers, Ted Purves, and Natasha Wheat will deliver public readings of texts directly from or related to the newspaper, while providing analysis and commentary in an informal reading-room environment. Readings will feature works by Chris Burden, Carolina Caycedo, Cooley Windsor & Futurefarmers, and the Guerilla Art Action Group (GAAG), among others. In addition, this event will serve as a distribution point for free printed copies of the newspaper. Participants will be encouraged contribute to the event and participate in discussion on how to build an economically viable arts community in the Bay Area.
This event will take place from 7-9pm on Wednesday December 16th.
Sight School, 5651 San Pablo Ave, Oakland CA
Comments »
Additional comments powered by BackType