Introduction to the CMC Information Initiative
March 27th, 2010 by eleanor - blog CMC TPG13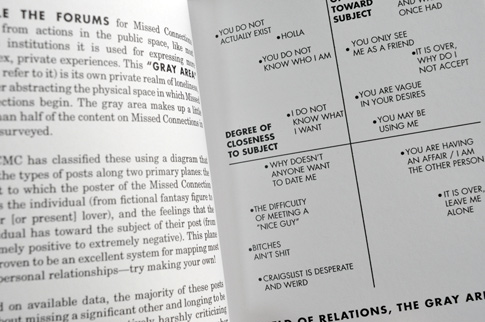 The Center for Missed Connections Information Initiative is an edition of 100 booklet sets by artist Ingrid Burrington analyzing missed connections posts on craigslist.org.  It is the most recent project by Burrington's pseudo-think tank – the CMC – which seeks not only to chart the loneliness of city life but to "encourage people to pay greater attention to those fleeting moments in cities that appear insignificant but linger in memory, producing a richer and more romantic and/or sleazy experience of the urban environment."   The set contains a Citizen's Field Guide, a Field Observation Workbook,  a fold-out "Taxonomy of Missed Connections," as well as a full-color "Geographic Missed Connections Study: New York".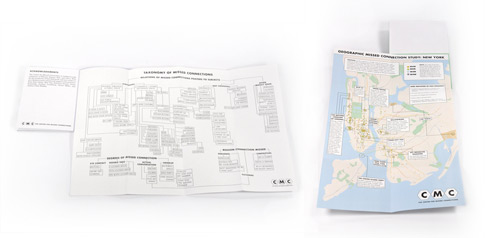 The Citizen's Field Guide attempts to classify Missed Connections posts on a multitude of criterion such as demographic, degree (double take, actual conversation, hookup), reason for connection missed (in a hurry, not wanting to be "that guy") and location (gym).  The fold-out Taxonomy of Missed Connections visualizes much of this research in an easy to digest format.  The field guide also presents the results from a short term comparative study of Missed Connection posts from the same 24 hour period in New York, Chicago, Austin, Boston, and San Francisco.
The Field Observation Workbook encourages you to "Be Out and About!" and experience your own missed connections.  Put to work as part of the CMC data collectors, participants are afforded a means to take down details about particular missed connections and have a perfect record should they decide to try to engage that special person online.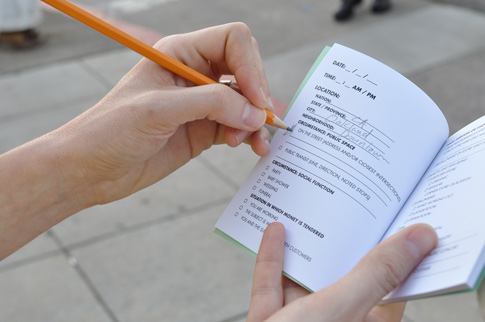 Ingrid Burrington grew up in Northern California and currently lives in Baltimore, Maryland. She works in text, photography, performance, and print, and has produced projects both as a free agent and under the guise of semi-fictional think tanks, which have appeared throughout the mid-Atlantic and online. She received her BFA from the Maryland Institute College of Art in printmaking.
Comments »
Additional comments powered by BackType