Anthroptic in Australia!
June 21st, 2010 by eleanor - blog events good things TPG1

Our very first piece, Anthroptic by Ethan Ham and Benjamin Rosenbaum, has made its way into the permanent collection of Australia's National Portrait Gallery and is being shown in "Present Tense: An Imagined Grammar of Portraiture in the Digital Age."  Technical Curator Michael Desmond introduces some of the ideas behind the Portrait Gallery's winter (or summer here) exhibition:
The National Portrait Gallery exhibition Present Tense: An imagined grammar of portraiture in the digital age considers the alliance between portraiture and technology and investigates how different ways of imaging reflect how the individual is perceived as well as how the various mechanisms of imaging that are used to manipulate that perception. Present Tense includes examples of the informal and immediate digital snapshots made with mobile phones; images recorded with sonograms that reveal faces that cannot be seen by the unaided eye; 2D and 3D portraits generated exclusively from binary code; and the more expected videos and manipulated photographs.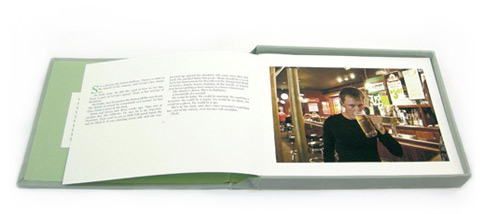 It is a wide ranging show, with works from Justine Khamara, Julian Opie, Rineke Dijkstra, and Loretta Lux among them.  Maybe the cast of "Work of Art" should have taken a trip to go see this show before their less than stellar look at portraiture in their first show.
The show will be up until August 22nd for anyone visiting Parkes, Australia this summer!
Comments »
Additional comments powered by BackType