Open Call for Potluckers!
January 7th, 2015 by eleanor - art and politics art world artist resources bay area blog show me the money we make stuff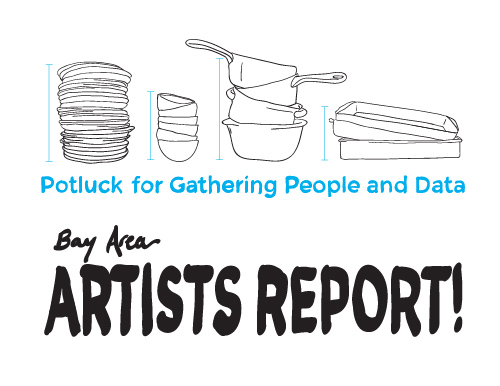 It's not always true that if you build it, they will come. We get it. Surveys aren't always so fun to fill out. But maybe if we come together in small groups, share food and drinks, and commiserate it will be a little more fun. That's why we are asking you, individually or in groups, to host a potluck for your visual artist friends ideally in the first weekend of February and fill out Compensation Foundation's "Bay Area Artists Report!" and anonymously contribute your experiences towards a better infrastructure for self-advocacy for artists.
The "Bay Area Artists Report!" is an effort to gather and make apparent how visual artists working in the Bay Area are compensated, what they value most, and what hurdles they face.  It's the time of year for digging through old receipts and bank statements to appease the IRS, so what better time to put that effort to use for a common cause?
Artists and organizations across the globe (W.A.G.E., Visual Artists Ireland, CARFAC, Brooklyn Commune) are advocating for transparency and the establishment of standards when it comes to compensating artists for their labor. Our hope is that by contributing to a clearer picture of what's happening here and now, we can help pave the way for a shift in cultural values and expectations.
We are working on securing beer and/or wine donations for fun. If you would prefer not to host something in your house, we can pair you up with one of several Bay Area organizations that have offered up their space. Please let us know if you plan something so we can track our progress and make sure to get you what you need!
Thank you!
Eleanor, Helena, Oliver
P.S. In an ideal world, these potlucks will occur in the first weekend in February, but anytime in the next couple of months would also be great.
Comments »
Additional comments powered by BackType