Annotated Links
December 17th, 2008 by eleanor - art and politics State of the Arts TPG8
Why Art is essential in our Public Schools
What is art and why does it matter?
Barrack Obama's Arts Platform [PDF] – Along with providing healthcare for artists and increasing funding for the NEA, Obama also wants to create "an 'Artists Corps' of young artists trained to work in low-income schools and their communities' as well as pass the 'Artist-Museum Partnership Act' which amends the Internal Revenue Code to allow artists to deduct the fair market value of their work, rather than just the costs of the materials, when they make charitable contributions.
But is it Art?  The Spirit of Art as Activism A collection of 12 essays, edited by Nina Felshin, on this theme of art as activism. A review.
Other art activist groups:
W.A.G.E: (Working Artists and the Greater Economy) "calls for an address of the economic inequalities that are prevalent, and pro-actively preventing the art-worker's ability to survive within the greater economy"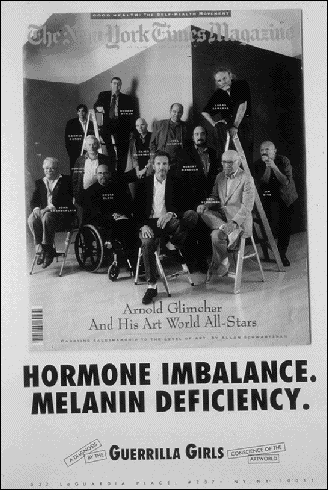 Gran Fury:A group in the 80′s and 90′s focused mostly on AIDS awareness, education, and visibility.  They produced images and staged events to increase awareness, almost an ad campaign for AIDS awareness and education, yet funded through art institutions.  An interview with Avram Finkelstein, an original member.
Guerrilla Girls: Raising awareness about sexism and racism in the art world since 1985.
Women's Action Coalition [WAC]: is a grassroots radical women's organization first formed in New York in January, 1992 when a group of women angered by the Anita Hill-Clarence Thomas hearings met to turn their outrage into creative street action for change. There were strong chapters in cities all around the country, notably Chicago and San Franciso.
Art Worker's Coalition:  Though short lived, (1969-71) this group did cause some real change for artists, especially in their relationships with museums.  Documents from their Open Hearing and other materials available here.
Artists involved in the conversations:
Amy Balkin
Anthony Discenza
Aaron Gach
Eleanor Hanson
Packard Jennings
Helena Keeffe
Mads Lynnerup
Anthony Marcellini
Christian Maychack
Lee Montgomery
Lucas Murgida
Steve Shearer
Chris Sollars
David Stein
Oliver Wise
Comments »
Additional comments powered by BackType