arts funding blog State of the Arts TPG8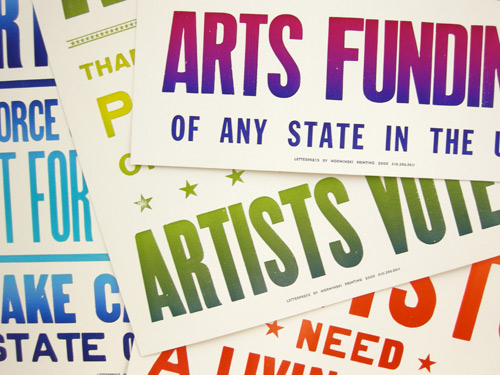 Facilitated by Artists Space curator Joseph del Pesco, "State of the Arts" is an unconventional exhibition project where the medium is the message. The four enclosed letterpress posters are the result of two think-tank style conversations between groups of artists living and working in San Francisco and Oakland. During a series of follow-up emails with the curator, major points were identified and distilled into arguments, demands, and observations about the conditions for artists. Two of the posters address the situation in the state of California in general, and the other two speak directly to the SF Bay Area. All four posters will be delivered to elected officials in the Bay Area in addition to the subscribers of The Present Group.
It is an edition of 96.
In the conversations:
Amy Balkin, Anthony Discenza, Aaron Gach, Eleanor Hanson, Packard Jennings, Helena Keeffe, Mads Lynnerup, Anthony Marcellini, Christian Maychack, Lee Montgomery, Lucas Murgida, Steve Shearer, Chris Sollars, David Stein, Oliver Wise
Joseph del Pesco is curator-at-large for Artists Space (New York) and co-founder of the Shotgun Review (San Francisco). He has organized independent curatorial projects for the Walter Phillips Gallery at the Banff Centre, Canada; the Yerba Buena Center for the Arts in San Francisco; the Rooseum in Malm, Sweden; and the Fondazione Sandretto Re Rebaudengo in Turin, Italy among others. His writing has appeared in various magazines including Proximity, Fillip, NUKE, (and the next issue of Flash Art) in addition to several international exhibition catalogues. Documentation of these exhibitions and other projects can be found at  www.delpesco.com