blog events exhibits internet social media art TPG artists TPG9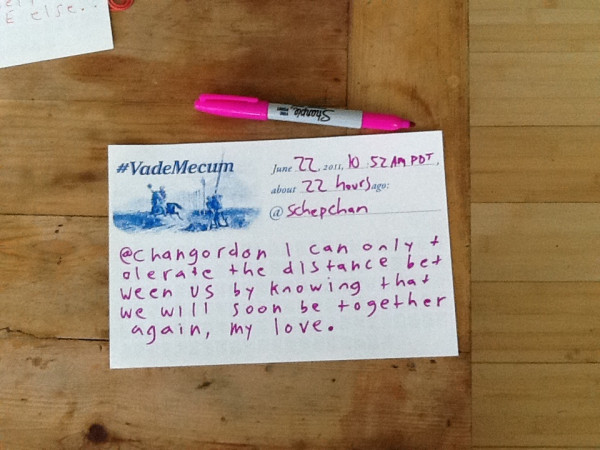 TPG 9 artist David Horvitz (@davidhorvitz) has been commissioned by Creative Time to produce a hard copy of every tweet containing the hashtag #VadeMecum (Latin for "Go with me" and meaning a reference book designed to be carried) between June 17 and June 23. On June 24, he will carry the materialized tweets by train from San Francisco to Washington, D.C., following the route of the first transcontinental telegram (sent in 1861 from San Francisco to President Lincoln in the nation's capital). Upon arrival in Washington, D.C., the entire collection will be submitted to the Library of Congress and donated to a public archive, where it will remain accessible.
Through the project, Horvitz will give his audience's tweets literal and metaphorical weight. Serving as an anachronistic messenger in an era in which distance is no longer an obstacle to communication, Horvitz will re-engage with the relatively slow pace of the physical journey as a meaningful and transformative phase in the life of the message.
Read more here about the Creative Time Twitter Projects
View tweets here
View David's transcriptions of the tweets here