People and Places: A Symposium of Public Practices
June 28th, 2010 by eleanor - art and politics bay area blog events public art talking TPG artists
Tuesday and Wednesday, June 29th - 30th, 2010
7:00 – 9:00pm, FREE!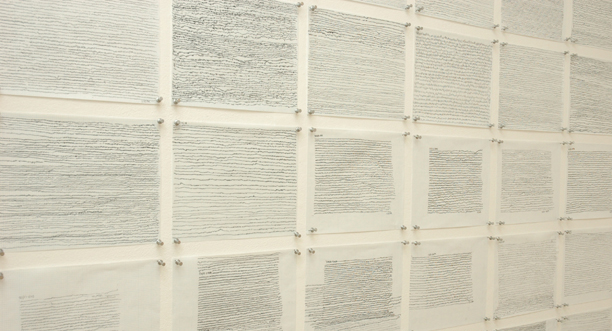 Ann Chamberlain, Untitled Installation 2, 2006. Ink on graph paper, fifty sheets, 8.5 x 11 inches.
A two-day symposium in honor of former SFAI faculty member and artist Ann Chamberlain, People and Places launches a sustained inquiry at SFAI into contemporary public practices. Pursued in conventionally artistic or increasingly hybridized, permissioned or nonpermissioned, and publicly underwritten or privately supported ways, the work of cultural producers in the public sphere is ongoing.
People and Places is structured around a series of open-ended questions relating to this vital strain of cultural activity: What does it mean for a contemporary artist to work in public settings or to solicit exchanges with the general populace? How do notions of "generosity" as a mode of social interaction, of "storytelling" as a project of collective history, and of "community" as a way of defining common ground inform creative strategies of public engagement? How are such negotiations located in particular places and enacted within particular social and political contexts?
Taken up by practitioners who work with people and places in a wide variety of forms and approaches, these questions will inform three moderated conversations: Defining Community, Practicing Generosity, and Telling Stories. These conversations will culminate in a roundtable discussion.
Participants:
Andrea Bowers, Glen Helfand, Jessica Hobbs, Walter Hood, Helena Keeffe (TPG #11), Julie Lazar, Malcolm Margolin, Jeannene Przyblyski, Pedro Reyes, Susan Schwartzenberg, and Natasha Wheat
SFAI  Lecture Hall
800 Chestnut Street
San Francisco, CA 94133
Free and open to the public
Comments »
Additional comments powered by BackType