Art Subscriptions on the Rise
October 22nd, 2009 by eleanor - blog collecting resources subscription art
Know what I have been a little delinquent in doing?  Charting the growth of art subscriptions.  I've been doing it in my head, but now I'd like to finally share with you just what has been happening in the world of art via subscriptions.
1. Papirmasse
"Papirmasse is a magazine, original art, and social experiment rolled into one."  Papirmasse is a monthly edition that gets delivered quarterly.  It is a poster-sized double sided print folded to fit in a 9 x 12 envelope.  For the most part, one side is an image and the other is mostly black and white text.  The limited edition prints are numbered at 1000 and are signed by the artist.  It is a project created by Canadian artist and illustrator Kirsten McCrea.  She seems to create much of the content, though there are certainly many other artists involved. Somewhere between an edition and a periodical, this subscription only costs $60 per year which is pretty sweet.  As she puts it, Papirmase rallies under the slogan, "Art is for Everyone!"
2. Art in a Box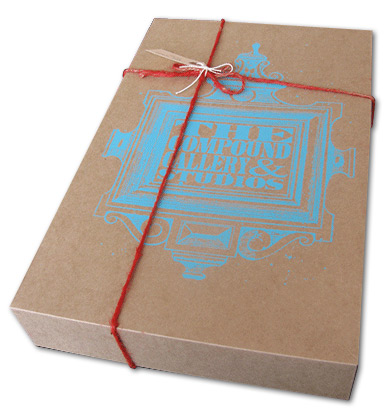 This monthly subscription run by Compound Gallery in Oakland is unique in a few ways.  First, it only uses local artists from the Bay Area – mostly from Oakland and San Francisco.  Second, the art that you get is original pieces, not editions.  I'm not sure exactly how it works, but the large group of artists that they use all produce a few pieces each month and then the whole lot gets divvied up, so each subscriber gets something different and unique each month.  Third, because not everyone is getting similar stuff, subscribers have the ability to state their preferred medium of artwork.   And lastly, one does not have to sign up for a full year at a time, they only require 3 month increments.  It is a higher pricepoint, however: $50 per month unless you want to pick it up at the gallery (then $30 per month).
This model could be a quick platform for artists to get a little exposure and probably get somewhere between $10- $20 (I'm guessing) per piece.  This may not be much, but it does encourage artists to have deadlines, try out new ideas and still get a little pocket change for it.  From the gallery's perspective there is much less organizing, as they aren't the one producing the projects.  Because it is very locally focused, I also like that they have "Pickup Parties" where people can get together, get their art, and probably meet the artists from time to time.  The art subscription model can be adapted to fit so many styles and configurations.  Some might classify the art that comes out of this subscription as verging on  "Dude/tte art".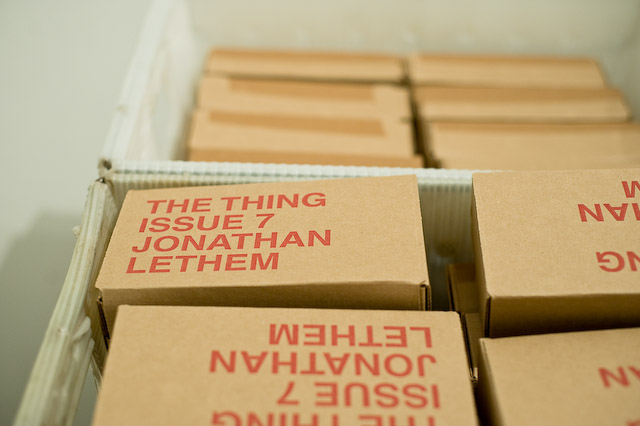 I don't know why it's taken me so long to write about these guys.  We even traded subscriptions with them.  Ah well: THE THING Quarterly is a periodical in the form of an object. Each year, four artists, writers, musicians or filmmakers are invited by the editors (Jonn Herschend and Will Rogan) to create an everyday object that somehow incorporates text.  They also sporadically produce other projects, some of which they send out to the subscribers as a bonus, and some of which they sell or give out to other people.
I really like how they invite a wide variety of creators to contribute projects, but my only criticism would be that the pieces come so out of context, that sometimes it is hard to figure out how they fit into the artists' work as a whole.  Because one of the joys of art can be the connection with an artist's ideas and perspective it would be great to get a little more insight into the creator's general practice and trajectory of their work.  The limited scope of the project, everyday objects that somehow incorporate text, is an interesting parameter.  When we first started The Present Group, we would explain the project and get a lot of confused looks and bewilderment in general.  Now, we run across that much less often and I contribute a lot of that to The Thing.  Their success in the media has definitely helped to spread the idea of an art subscription and they have gotten a lot of people to start collecting and supporting artwork.

1 Tweet
8 Comments »
Additional comments powered by BackType