Discussion for Old Tricks for New Monkeys
September 19th, 2010 by eleanor - Old Tricks for New Monkeys TPG15
Please use the comments to discuss your thoughts on the work, the artist, or what the work makes you think about.  Below is a bit of what we've thought about while working on this piece.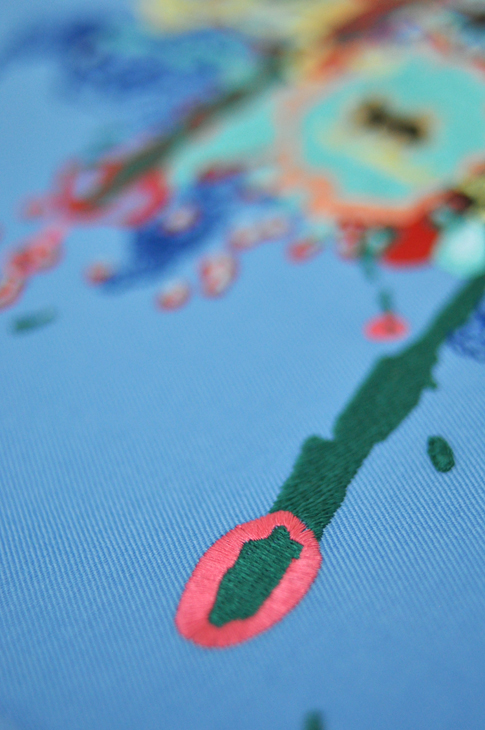 For the third year in a row, the subscribers choice edition was a textile. Like Maggie Leininger's "Text/ile" (TPG7), it was an experiment in factory production for an artist used to working with her hands. While this shift from labor intensive singular pieces to a more mechanical approach could be viewed as a loss of the artist's hand, this season's critic Jennifer McCabe, Director of the Museum of Craft and Folk Art in San Francisco, points out "the loss of the original does not signify a bad thing, it opens up progressive possibilities of both process and accessibility." We couldn't agree more. The artist multiple is an exercise in exactly that. And after all, that's what TPG is all about.
We viewed Nava's urge to mend holes in her canvases, to embroider and make stains beautiful, and to incorporate her old taxes and rejection letters into her work as a way to reclaim control over the ugly parts of life. In the interview she mentioned that she viewed this practice more as a way of "digging out of a hole", just getting back to normal. But these pieces are much more than they were before their destruction. What was once an everyday tablecloth now shows in a museum. A roll of stained fabric now sells for thousands. It reminds us that what may seem like a struggle just to keep up or to stay afloat can itself be a step forward; the new normal turns out to be much further ahead than we'd ever have thought.
To the new normal,
Oliver and Eleanor
Comments »
Additional comments powered by BackType