blog Old Tricks for New Monkeys TPG15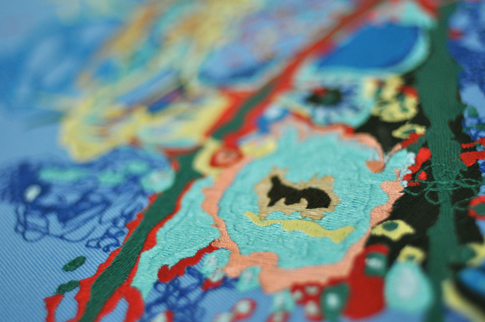 Old Tricks for New Monkeys is an edition of 70 machine embroidered canvases.  The work contrasts the accidental with the meticulous, depicting the chaos of a spill, delicately recreated with thread.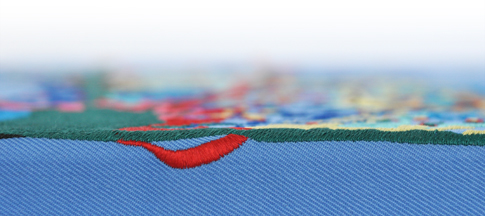 Nava Lubelski was born and raised in New York City and is living currently in Asheville, NC. Lubelski's work has been included in two exhibitions at the Museum of Arts & Design in Manhattan, and has also been seen recently at the Weatherspoon Art Museum in Greensboro, NC and the Queens Museum of Art in Queens, NY, where her work is part of the permanent collection. Lubelski's 2009 solo show at LMAKprojects in New York City was reviewed in the New York Times, which referred to Lubelski as being "in the category of artists who 'paint' with thread."  She has had two solo shows with OH&T Gallery in Boston and additional recent exhibitions include group shows in L.A., Stockholm and Berlin.  Lubelski was a featured artist in the book Contemporary Textiles: The Fabric of Fine Art, published in 2008 by Black Dog Publishing in London. She has received grants from The Pollock-Krasner Foundation and the New York Foundation for the Arts.  Lubelski received a degree in Russian Literature & History from Wesleyan University in 1990 and spent a year as a student in Moscow, Russia.