And the winner is.. Alison Pebworth!
March 30th, 2011 by eleanor - arts funding bay area blog good things new models The Present Prize
With the help of The Collective Foundation, the hostees, the general public, and all the artists who participated, we are proud to announce that the winner of The Present Prize is Alison Pebworth!  Alison will use The Present Prize $1000 Travel Grant to visit the Sabbath Day Lake Shaker Community in Gloucester, Maine to develop a residency with the last four living Shakers and to research Radical Sects and Utopian Societies of America for an upcoming tour with the Beautiful Possibility Project.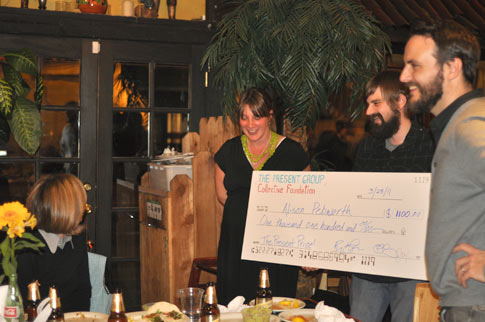 We received an extra $100 bonus check from a generous benefactor who wanted the winner to be able to have a hearty meal with a friend on her travels.  He also contributed to the grant early on, liking the idea of artists helping out other artists.  Moments like these make me feel so wonderful about the generosity and collaborative spirit of artists both around the world and in the bay area in particular.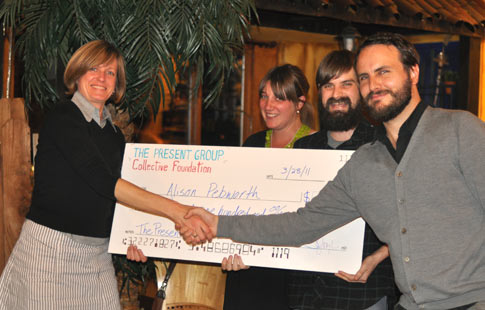 So on Monday night, we gathered with some of the local hostees and participating artists to give Alison her giant check over some tacos and beer.  Congratulations Alison!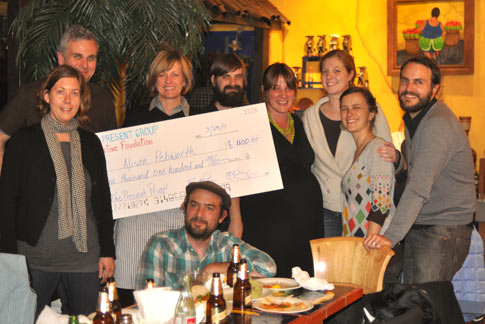 L-R: Courtney Fink (Art Publishing Now, Mission Arts Trail Guide), Nathanial Parsons, Alison Pebworth, Scott Oliver, Oliver Wise (TPG), Eleanor Hanson Wise (TPG), Lauren Venell, Helena Keeffe (Alula Editions), Joseph del Pesco (Collective Foundation)
2 Comments »
Additional comments powered by BackType