Old News, New News, TPG5 is Out!
March 4th, 2008 by eleanor - art market blog news press
Maybe we're just behind, but we just found out that we were mentioned on the Readymade blog in January!
Thanks Readymade! (Click on image for Link to post)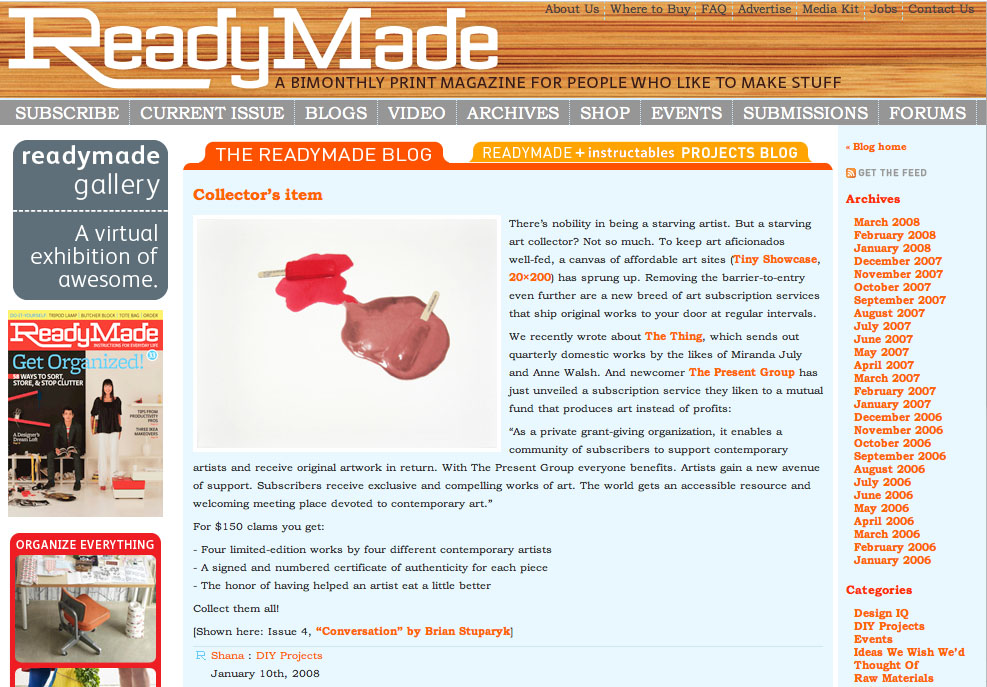 Also mentioned in the article was a project that is new to me, called 20×200– a la Tiny Showcase fame– it sells prints from artists at pretty darn reasonable prices. The editions are in runs of 200, 20, and 2, with bigger=better=shorter run=a lot more expensive as the main equation. The small ones are only $20, so it's a pretty sweet entry point.
It is interesting to see how all these projects, businesses, organizations are popping up to figure out ways to support more and more artists while aiming at generating more interest in collecting art at affordable levels. I listed many of these organizations back in the fall (here) when the Collective Foundation brought us all together at the Yerba Buena Center for the Arts for a little discussion. Are we helping to create a new and different market for art? Or will art become more designy to satisfy the designsponge crowd that wants to fill up its walls? Is that so bad? I am starting to think about all these ideas as I slowly slowly start to prep for a talk I'll be giving at the Headlands Center for the Arts in May. More about that later.
In other news, this morning we sent off TPG5 out of our home and into the great big United States Postal System. So soon they'll arrive in your homes. Hip hip hooray!
Comments »
Additional comments powered by BackType