A Message For Each Other by Victoria Gannon
June 7th, 2008 by eleanor - blog contemporary art criticism TPG6
I don't know the man who addresses me in Aaron Cedolia's "A message for you." Only that his name is Javier, and he has dark hair and a nice smile. He looks up from his book, which he quietly reads in a public park somewhere in New York, to speak four simple sentences to me. "Hello Victoria. I love you. I miss you. I wish you were here," he says, so earnestly that I believe him.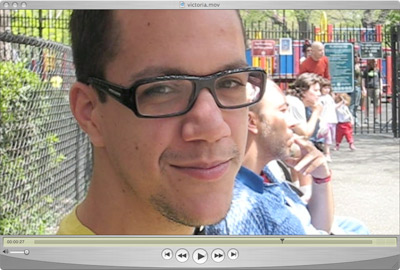 You don't know the other people in the videos, either. Still they say your names, look into the camera like it's your eyes, and present an identical message. In fifty-two separate videos, people we know only by first name – Youngmi, Samantha, Melissa, Javier -speak to us. Their names and personalities imbue the uniform script with individuality, introducing nuance and spark into the repeated phrase. Two teenage girls in an acting class smile for the camera like a school picture; a doorman hurries through the words from behind his desk, punctuating the last phrase with his hand; a man in a green tee-shirt conjures surprisingly sincere emotion. The messages' differences remind us that even amidst apparent sameness, we are all unique.
Cedolia is a New-York based video artist whose background is in acting. His solo work and his projects with peoplmovr, an artist collaborative he formed with Geoffrey Scott, reflect his desire to reach people within their everyday situations, outside the traditional theater venue. "A message for you" can be understood as "social practice," also known as "relational aesthetics," a genre of art that takes social relations as both its subject and form. Recontextualized within the realm of aesthetics, social relationships become representations of themselves, playful reflections that leave room for possibility in a way "real" social interactions often don't.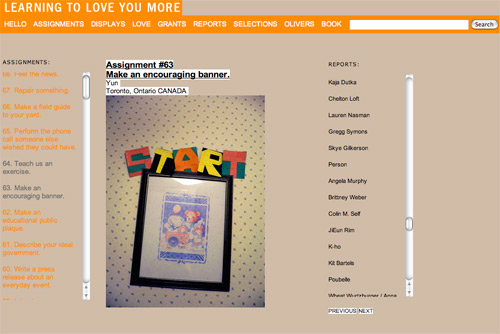 Prominent practitioners of social practice include Harrell Fletcher, whom Cedolia cites as an influence. One of Fletcher's best known projects is the participatory Web site, "Learning to Love You More." The site, conceived and created by Fletcher and video artist and writer Miranda July, posts simple instructions: take a flash photograph beneath your bed, write your life story in a day, draw a constellation from someone's freckles. The site's users post their assignments online, creating a personal and startling virtual gallery. Like Cedolia's work for The Present Group, Fletcher and July's project disperses identical instructions among a diverse population and revels in the range, subjectivity, and intimacy of the responses.
"A message for you" explores the possibility of cultivating intimacy within the city's anonymity. Filmed in New York City, the phrases' repetition mirror the numerous interactions among strangers involved in the work's production and reception. The artist first introduced himself to people he had only seen, never spoken to, and explained his work. "New Yorkers give you about five seconds to ask them something before they move on so I had to be brief," he recalled. He told them he was working on a video about New York residents; he told them the sentences he wanted them to say. Participants then addressed strangers with words normally used for loved ones. Eventually Present Group subscribers watch the videos, surprised to hear someone they've never seen or met say their name with such familiarity.
With each interaction, the relationship between intimacy and anonymity is reconfigured, and the alienation of urban life is temporarily disrupted. The seemingly faceless crowd is composed of individuals with whom sincere and unique connections are always possible. Even today, even in the city, in a building lobby or bland cubicle. Even between two people who have never met. This, as much as the spoken words, is "A message for you"s real message.
.
.
Victoria Gannon is an Oakland-based freelance writer who recently earned her masters degree in Visual and Critical Studies from California College of the Arts. She enjoys writing about art, cultural and personal geographies, and the frequent intersections between the two. She recently collaborated with Oakland filmmaker and fellow CCA alum Michael Goodier on "Love Lafayette." The 11-minute film is based on her essay about the East Bay suburb in which she grew up. Gannon's master's thesis investigated informal day laborer hiring sites within the context of their surrounding landscapes. victoriagannon@gmail.com
Comments »
Additional comments powered by BackType