Thank you.
September 9th, 2008 by eleanor - blog events good things tidings
We had a big night on Friday. It was really wonderful to have a space to show all the works that we, the artists, and the subscribers have collaboratively created throughout the past two years. It was great to meet some of our subscribers for the first time, greet our friends and supporters of old, and share with people we just met our project and the works. Two of our artists were able to make an appearence, which was great, along with three of our critics (one future curator/critic).
We felt very proud to be able to share these works and honored at the turnout. It was also so heartwarming to know that the show was made possible by contributions from so many people. And so..
Thanks to:
Old Oakland PSAI Associates for the space, Illinois Arts Council for partial funding of Maggie's project, Vino! and Ally and Justin Trigg for their generous donations of wine, Southern Exposure and the Alternative Exposure Grant for much needed funds, Tim and Lydia for the projector, Steve, Paul, Elissa, Christine, Ally, and Andy and Lauren for the loans of mp3 players and headphones, Lauren and Andy for day of tasks, Verse and 510 for welcoming us so kindly to the little strip, all of our subscribers, artists, critics, friends, and all those who made the trip.
We are so honored and grateful for your help, support, and enthusiasm.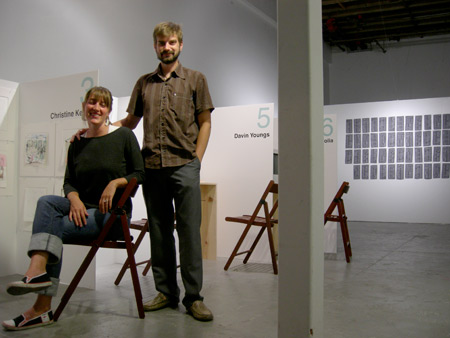 Comments »
Additional comments powered by BackType