Annotated Links
September 12th, 2008 by eleanor - other TPG7
Collecting Textile Art – information on the broad range of textiles in the market, along with tips about displaying and collecting
When is Fiber Art, Art? An essay in Fiber Arts Magazine (a good source of info for all things related to (surprise!) fiber arts) by Janet Koplos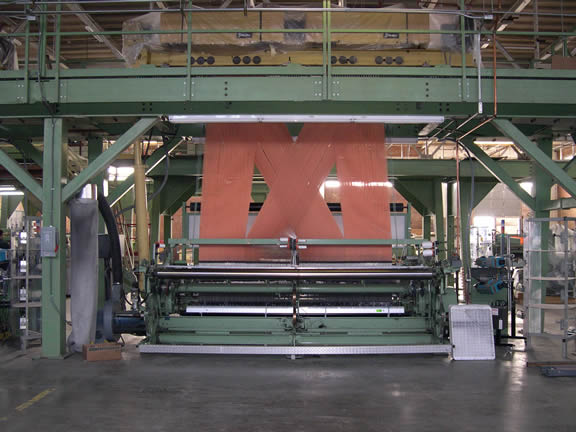 The Jacquard Loom is a mechanical loom, invented by Joseph Marie Jacquard in 1801, that has holes punched in pasteboard, each row of which corresponds to one row of the design. Multiple rows of holes are punched on each card and the many cards that compose the design of the textile are strung together in order.
Because it was the first machine to use punch cards to control a sequence of operations, it is considered an important step in the history of computing hardware. The ability to change the pattern of the loom's weave by simply changing cards was an important conceptual precursor to the development of computer programming.
Fiber Artists and Shows:
Thread at Johansson Projects: a review of the show, a list of artists involved "Thread, a survey of sewn, stitched and woven works whose common thread is the media, not the medium. By re-exploring the functional avenues of textiles and materials, these eight artists begin to converse in a neo-craft dialect which diverges greatly from its domestic and industrial traditions. Pins are re-invented as figurative joinery, refuse amassed to render owls, interactive fabric measures changes in electro-magnetic frequencies, making the outcome from these dexterous hands undeniably rare."
Two artists from the "Thread" show work with the Jacquard loom: "Lia Cook, collected by the Cleveland Museum, de Young, The Met, and NYMOMA and her former student, Christy Matson, who currently lectures at The School of the Art Institute of Chicago, both utilize Jacquard weaving looms though their kinship divides from there: Matson's interactive woven audio cloth relays the constant human flux of the very space Cook's pointillist portraiture hopes to hold in a single woven moment."
Anni Albers – was a German-American textile artist and printmaker. She is perhaps the best known textile artist of the 20th century. In 1971, her and her husband founded the Josef and Anni Albers Foundation, a not-for-profit organization they hoped would further "the revelation and evocation of vision through art." Here is a gallery of Albers' work much of which is strikingly similar to Text/ile. Here is a great interview with Anni that gives some insight into her work and theories.
Seiko Kinoshita – contemporary textile artist from Japan working out of England.
Deepa Panchamia – contemporary sculptural textile artist out of England
Emilio Lobato – Painter inspired by woven textiles. Honoring the weavers of his Spanish ancestry, Lobatos' new work revisits the 'Blanket' series and builds upon its tapestry-like foundation. With inclusions of text and cross symbols, the weft segments are painted the artists trademark colors: earthen reds, blacks and ochres.
Maggie's Links:
http://www.visualcomplexity.com/vc/
is an AMAZING site that really inspires me on many different levels.
this is a great group that combines knitting and graffiti.
This is the web site for Cat Mazza who is using stitching and knitting for revolution and activism.
radicalcrossstitch.com/2008/07/14/stitch-for-senate/
A new project collaborative–way cool feminist site!
The Jacquard Center in Henderson, North Carolina – Text/ile was produced while Maggie was an artist in residency here.
Fiber Arts as Activism:
Stitch for Senate is an initiative of knit hobbyists making helmet liners for every United States Senator. Building on the tradition of wartime knitting, a practice dating back to the American Revolution, Stitch for Senate revives this cultural trend by engaging with public officials about the war in Iraq. Hobbyists knit in solidarity to persuade elected officials to support the troops by bringing them home. All the senators will receive their own helmet liner the week of the 2008 election, after being displayed in the seating chart of the US Senate at gallery venue. Once they are received, senators can opt to send helmets to a soldier.
1 Comment »
Additional comments powered by BackType