Is Detroit the new artist's frontier?
March 26th, 2009 by eleanor - blog opportunities others lives
There's been a bunch of hubub about it lately: NPR, CNN, The New York Times, 20/20, and on.  Mitch Cope and Gina Reichert, a couple living and working in Detroit, are generating a lot of attention with their effort to create a new perspective on Detroit: as a place for artists.   They are living it too.  Because of the unbelievably cheap cost of lots and buildings, they have bought up a bunch in a one block area (two empty lots for gardens, one as their own home, one or two which they bought just because they were so damn cheap- then sold to friends, and one to create a new model of affordable, off the grid living: Powerhouse- which is to become a community art center and artists' residency program)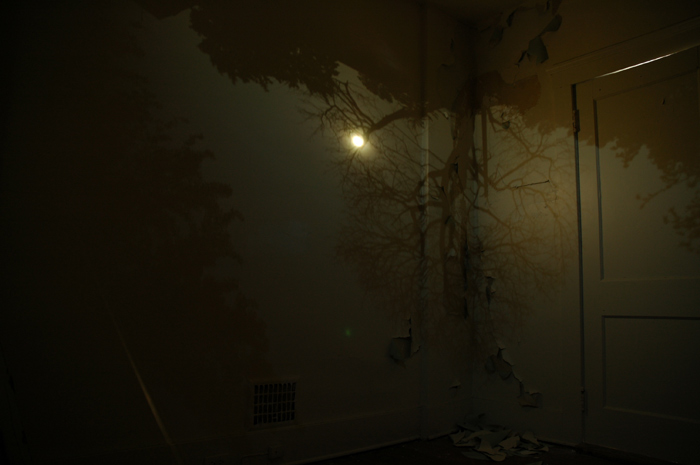 Camera Obscura in the Powerhouse
In fact, they have gotten so much attention, they've put up a new page on their website: Move to Detroit.  In it, they encourage those who do want to move, give their zip code if people want to move near them, but warn that Detroit is "not for everyone" and that you should definitely come and look at places/the city before you buy. They also say that speculators will be dealt with accordingly, but I'm not sure what that means. It seems like speculation could run rampant here and there would be a big backlash to this publicity: instead of building a community, these cheap houses could be bought up and sit empty as the original buyers wait for the artists to move in and make the property values to go up.
Let's talk about Detroit.  It's population size has shrunk by half.  Unemployment in January reached 22.2%.  That means hundreds of thousands of people are unemployed.   Politics are famously corrupt.  There are huge areas of the city where the houses are being destroyed, burned, dismantled, and slowly, city block by city block, these areas are left to go back to nature.  Scrappers dismantle anything and everything that is metal to make a buck, including manhole covers.   And it is dangerous.  In one of the articles about Powerhouse, a neighbor explains that you have to have a dog, an alarm system, or a gun.  He has all three.  And he's still leaving after living in the area for dozens of years.  Oh, and there are stray dogs everywhere.  Apparently, everywhere. Every blog I have read in researching this post talks about the dogs.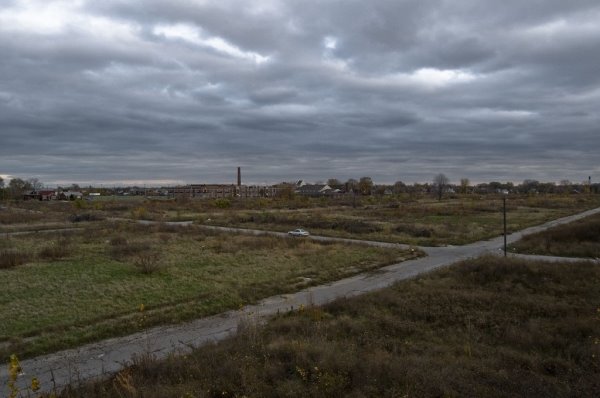 Urban Prarie
BUT, YOU CAN BUY A HOUSE FOR $100 – $2000.  This is unreal.  (So unreal that there is a website chronicling it: Un-real Estate) Anyone living in a major metropolitan area usually pays this much in rent in one month.   Of course, there aren't really jobs here, but as more and more companies are moving towards contract/remote workers, this is less of a problem for more and more people.  And say you are an artist.  You make $12,000 off of selling your work, getting grants, etc.  You have to have another job to live off of because $12,000 just doesn't cut it.  Well.  Say you buy a $2000 house and put in a good amount of money fixing it up.  Your total loan is $65,000.  With today's mortgage terms (5% 30 yr fixed) that is a little less than $350 per month.  You can live off of your $12,000 and make so so so much more work because you don't need another job.  And, I'm pretty sure you could do it for cheaper.
Or say you are an architect.  You have been working for someone else for a while and want to have a project actually built to jump-start your portfolio.  Instead of going back to graduate school, you put that money into some real world practice and build your abstracted nest building in the middle of a city.
Or your work deals with social activism in one way or another.  You take some clues from this list: Actions: What You Can Do With the City published by CCA, and use this frontier to put some new ideas into place.  One of the things that is so appealing is that because Detroit is in such ruin, the city is being re-formed by anyone who wants to do something.  You really can create a new community. Want to start a farm 10 minutes from downtown with goats, chickens, and organically grown food?  Go ahead, people are already doing it.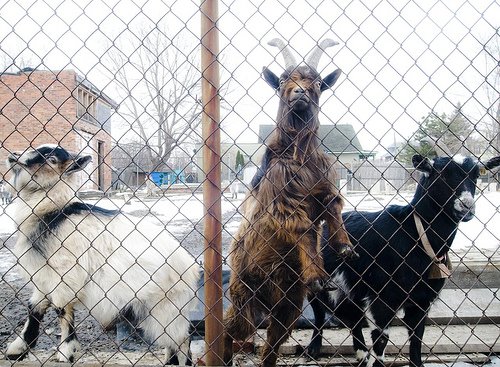 Goat farm in Detroit
This balance of good and bad, of lack of law and oversight, but also the freedom that comes with it, are what Detroit encapsulates.  Mitch from Design 99 and the Powerhouse captures this idea in this post: Detroit ///Democracy for all…
It's a city where you can do things, both bad and good as you choose without much oversight, enforcement of law or rules imposed from above. It is up to the residents to decide what it is they want to do, how they govern their particular block or street and therefore what they want their city to be.
Artists have historically lived "on the edge," in the constant quest for cheaper living space, and have often transformed those neighborhoods by their very presence and creativity.  The ability to live extremely cheaply and without governmental building restrictions may be enough to entice artists to this area.  But they have to be ready and willing to take hold of their neighborhoods and create the place that they want to live in.   And they shouldn't expect anything to change quickly.
Jim Griffioen at Sweet Juniper has been documenting Detroit,  it's "beautiful decay", and his experience living there.  His pictures and journalism of both the urban prarie and the area's closing public schools (and the waste/loss of all the schools' supplies) are outstanding.   He sums up his way of straddling the line between hope, expectations, and disappointment:
We quickly decided that the best course of action was to simply accept this city just as it is, and not to get our hopes up too much. Don't expect the police to show up when you call 911, and when they do, welcome them as heroes. When you hear news about new development, don't expect it to actually happen. Don't expect your municipal politicians to actually be smart liars. If you can learn to love it for what it is, and not get too wrapped up in hope for what it could be, you will find yourself much happier here.
Ever since we moved to the West coast, I have been intrigued by the idea of the frontiersman.  How so many people started their life over in the middle of nowhere in the hope that life would be better.  We have a new frontier now- it just happens to already have the infrastructure of a city.

1 Tweet
1 Comment »
Additional comments powered by BackType