Perfect Sunday
October 5th, 2009 by eleanor - bay area blog good things life without a car outside personal pictures tasty
It started with Pear Ginger Muffins and Julia Child's Omeletts (we ate them too fast to take a picture)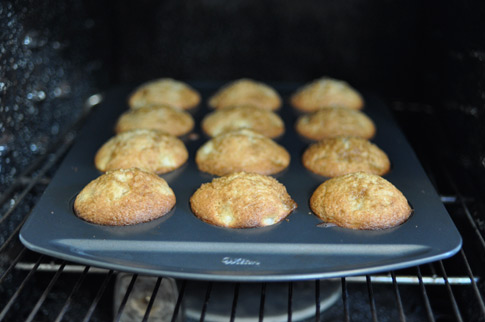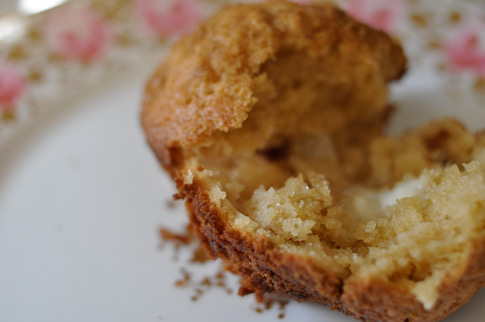 Yes. That is a pad of butter on my steaming muffin.  Layer your pleasures people.
Here's the recipe, adapted from Nigella's Pear Ginger Muffin recipe:
-Preheat oven to 400.
-In a large bowl, mix 1 cup white flour, 3/4 cup white whole wheat flour, 2 tsp baking powder, 3/4 cup sugar, 1/2 cup brown sugar, and 1 tsp ground ginger, 1/8 tsp of salt.
-In another bowl, mix 2/3 cup sour cream, 1/2 cup vegetable oil, 1 tbs honey (warm), and 2 large eggs. Fold into the dry ingredients.
-Fold in 1.5 cups peeled pears cut into 1/4 inch dice, 1/2 cup ground walnuts, 3 T minced crystallized ginger.
-Divide batter among 12 muffin cups. Sprinkle 2 tbs total brown sugar over tops of muffins and bake for 20 minutes.
*only comments would be that they still weren't gingery enough for me – but that may be because my ground ginger was a little old, and I might try replacing the oil with something else – I don't like the smell of oil in baked goods.
Then we used one of our Extended Freedom Days from City Car Share and drove to Point Reyes.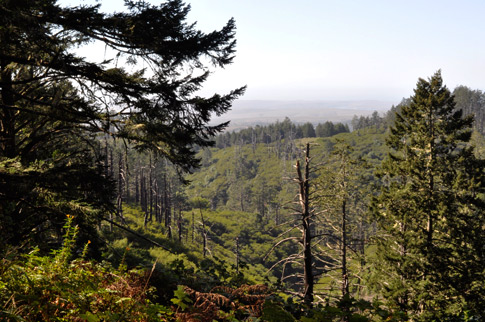 It always amazes us how rejuvenating hiking can be.  We get so stressed and cooped up right around the release of a piece and we could just feel that *junk* releasing as we walked and breathed actual fresh air.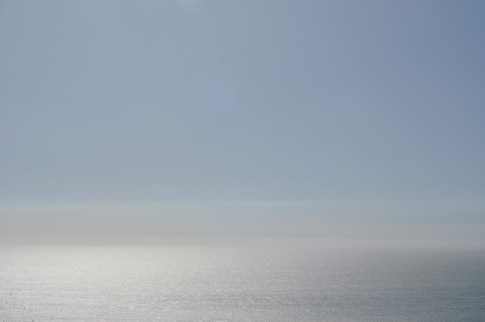 This picture captures the calm.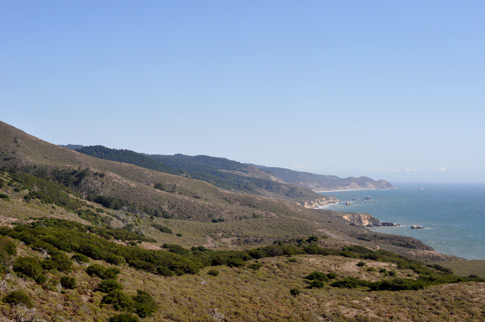 We had our favorite lunch: bread, avocado, coppa, cheese, trail mix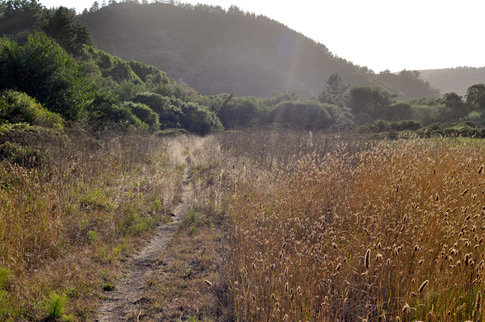 Then we drove down to Bolinas because we hadn't ever been there and had been hearing a lot of good things about it lately.  That town is amazingly cute. We would totally live there if it was even remotely affordable. Those hippies really got it right. We ate at the only place in town (that we saw), Coast Cafe, and it was completely and totally delicious.  A GIANT glass of wine, Boont Amber Ale, French Onion soup covered with crusty and bubbling gruyere, Oysters: both raw (best ones I've had in quite a while) and barbecued, and Spinach Fettuccine with scallops and a lemon/wine/cheese sauce.  I really wanted the Blackberry pie for dessert but was too stuffed.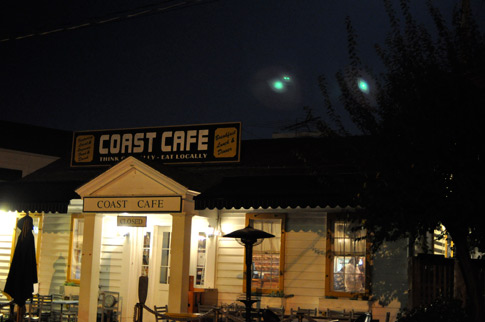 Then we walked down to the beach and sat for a bit.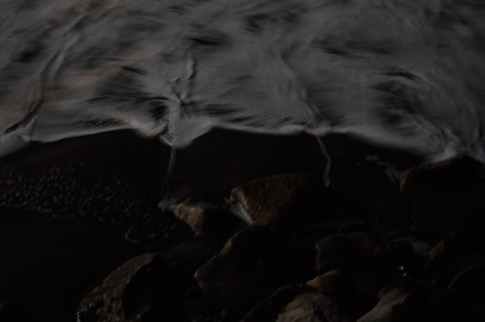 After I took these pics and put the camera away, we were sitting and listening to millions of tiny bubbles popping and a huge deer with a full rack appeared from nowhere and ran in front of us on the beach, stopping for a moment to look at us, and then ran up and away. It was magical and really felt like a dream.
1 Comment »
Additional comments powered by BackType