Subcription Art Spreads: Minnesota's "Community Supported Art"
May 6th, 2010 by eleanor - blog collecting resources opportunities subscription art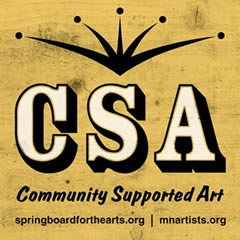 Exciting!  Another player on the subscription scene, St. Paul's Springboard for the Arts and mnartists.org have teamed up for a hyper local version of this idea to support local art, artists and collectors.   Over the course of 3 months, collectors will receive 3 boxes containing (I think) three works each.  There are 9 artists who will be commissioned to make an edition of 50 and the cost for a share is $300.  It is pretty exciting to see that their network is so involved that they sold out in less than 12 hours!  And they are already taking reservations (for a $100 price) for the fall season.  Similar to Art in a Box, they will have local "Pick up Parties" at different art organizations, furthering the feeling of being part of a community.
From their press release:
The goals of the CSA program are to support artists and to create a community of engaged local arts supporters.  CSA supports artists: in the creation of new work, to establish relationships with local collectors and patrons, and to participate in the launch of an exciting new model of art support and distribution.  CSA Share member benefits include multiple works of art from local emerging and mid-career artists at a fantastic value! Additionally, CSA Share members have the opportunity to develop relationships with the local artists and art community, discover new artists, explore a variety of disciplines and support artists' careers and a vibrant community.
Comments »
Additional comments powered by BackType