The Present Prize Finalists
August 14th, 2012 by matt - blog The Present Prize
Thanks to 204 voters who cast a grand total of 3,152 votes, public voting for the Present Prize is complete!  We'd like to congratulate our three finalists: Maria Molteni, Packard Jennings, and collaborators Carlos Saez and Claudia Mate.
It was a very close race and other competitors were not far behind.
About half of people coming to the site voted just once, indicating a direct link from that artist's social network. However, the second highest percentage of people (ten percent,) took the opportunity to vote on all 91 matchups, making their opinion heard in much greater force. Of the remaining 40%, people seemed to tire out of voting all across the gamut.  While the direct links certainly had an impact on the final results, as soon as people voted more than once, they contributed to a scenario where the effect of internet popularity was diluted.
Here are the the three finalists again.  It's interesting to note that each of these winning works engage a larger community as contributors to their projects.
Cloaque by Carlos Saez and Claudia Mate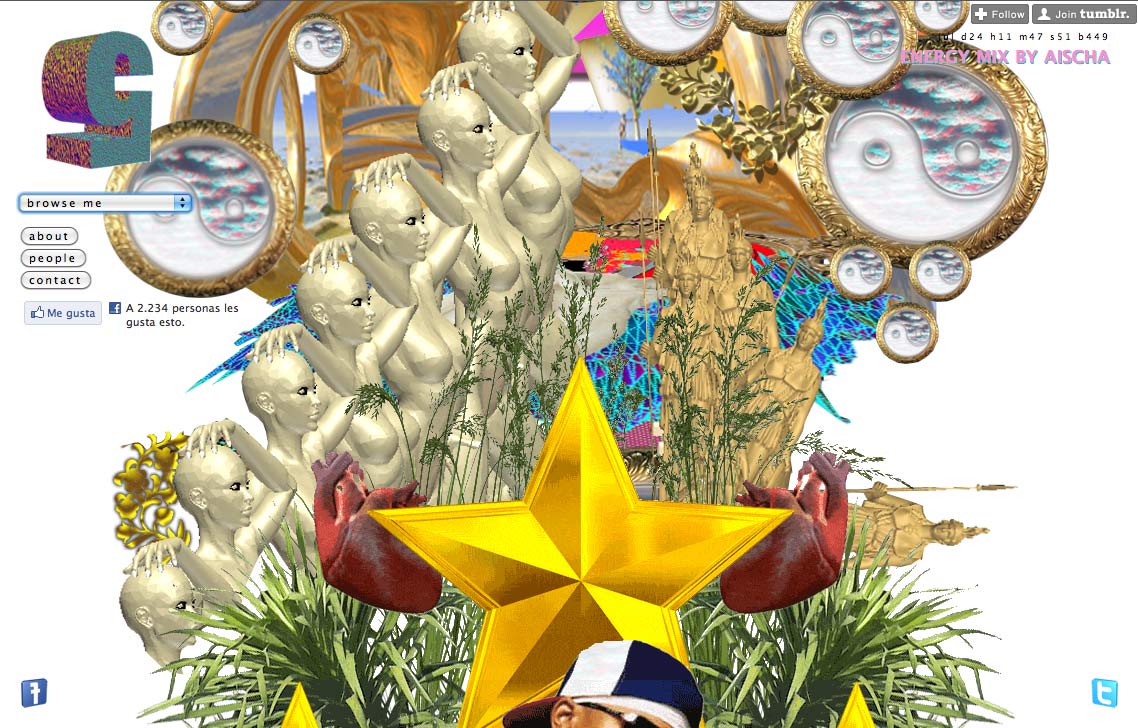 "Cloaque works as a digital landfill. It is the result of the collection, treatment and joining together of a series of images found online or self produced work, to create a column of digital compost. It is a collaborative project hosted on a tumblr platform where artists are invited to continue the previous work developing an endless vertical collage."
Claudia Maté is a spanish web developer working on a large area of online based projects. She experiments with different programation languages and 3D softwares, using platforms as Tumblr and exploring new posibilities with HTML5.
Carlos Saez is a multidisciplinary artist. He has been working in fashion, creating his own brand. Also with video through his  audiovisual project Multi-Movies  and lately as creative director of Room Mate Hotels.
New Craft Artists in Action by Maria Molteni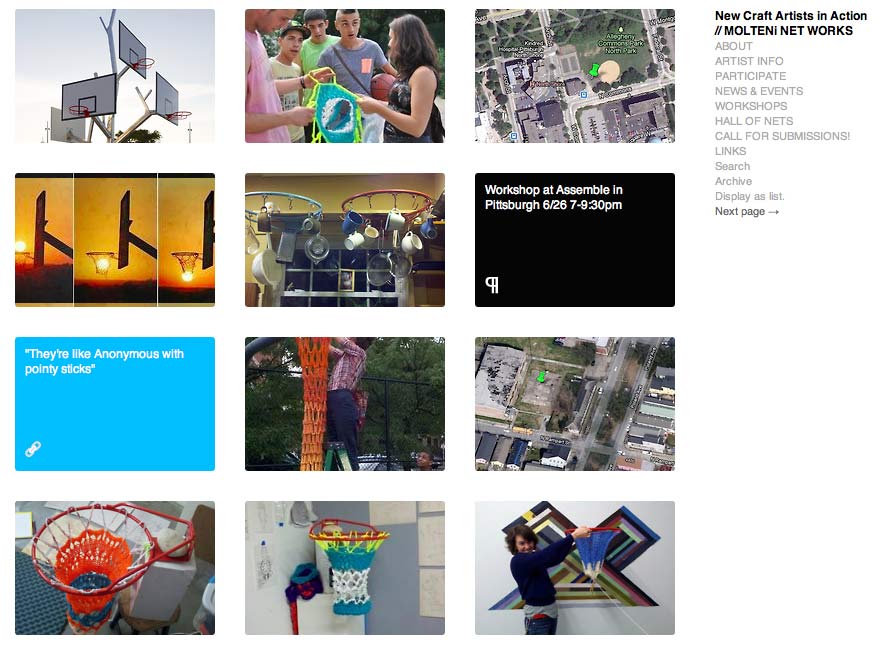 "The NCAA team captain launched MOLTENi Net Works in response to cases of Empty Net Syndrome in Boston. This yarn-bomb initiative, executed via workshops, pickup games & internet cataloging, aims to create functional, hand-crafted basketball nets for neglected public hoops. Inspired by a mapping process and DIY form of slow production, we make use of neglected courts & the internet as public venues across the globe. The project aims to build pro-active relationships between artists, athletes, & neighbors, tracing connections between such networks via hoop coordinates logged on our public gmap. When it comes to love for the NET, NCAA assumes Triple Threat."
Maria Molteni grew up in Nashville, TN, a misfit in the bible belt where differences are settled on the court. Swallowed by team jerseys for 10 years, she swore to become an "Art & Basketball Star". Her neighbors expressed their support via MOLTEN brand basketballs with bold i 's scribbled on the end. This anecdote illustrates concepts & processes of Maria's current practice, approaching art as the reassessment of authorship via appropriation/technology & expression of support/protest by DIY craft.
Destructables.org by Packard Jennings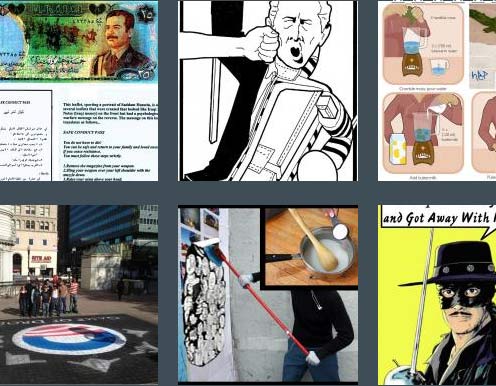 Destructables.org is an advertising free Do It Yourself website for projects of protest and creative dissent. The site features user generated step-by-step video and photo/text based instructions for a wide range of dissenting actions, including (but not limited to): art actions, billboard alterations, shop-dropping, protest strategies, knit-bombing, making protest props, interventions, methods of civil disobedience, stencil work, performative actions, and many other forms of public dissent – from the practical and tactical to the creative and illegal. It is a living archive and resource for the art and activist communities.
Packard Jennings is a visual artist who uses appropriation, humor and interventionist tactics to address political and corporate transgressions against public interests. A native of Oakland, California, he received his MFA from Alfred University in New York. He has garnered critical attention across a variety of media, including: Artforum, Playboy, Flash Art, the Believer, New American Painting, the Washington Post, and the front page of the New York Times. 

Now it is up to our grant contributors to pick a final winner!  If you are a TPG web hostee or a buy-in contributor, go here to cast your final vote.
1 Comment »
Additional comments powered by BackType