Anthroptic Annotated Links
March 11th, 2007 by eleanor - TPG1
Creative Commons:
Benjamin Rosenbaum reading Anthroptic – Audio files on the Internet Archive
Anthroptic Images on Flickr:
Anthroptic Text - Read the full text.
Generative Art:
Roxy Paine's "PMU" – Paine's PMU is part of a series of flawlessly-built art-making machines that include a Drawing Machine, several SCUMAK (Auto Sculpture) machines and an Erosion Machine. Constructed with an industrial scale and durability, the PMU is built to produce unique, vaguely Abstract Expressionistic canvases. At regular intervals, a red warning light flashes, signaling the start of each painting cycle. A large robotic arm spews white paint in a neatly choreographed trajectory from left to right towards a canvas dangling from the center of a large network of stainless steel frames, tubes and vats. Each layer is allowed a long drying period before the cycle begins again.
CAP – Computer Aided Poetry – Billed as "A tool for blocked poets" this site is a straightforward example of using generative principles for creative ends. Type in a phrase or a poem and the program will replace each word with a word it thinks relates. CAP's creator, Eugenio Tisselli, sees broader implications. In "about machine poetry. a manifesto for the destruction of poets." he writes, "poetic machines, or poem-generating algorithms, open up the last possible way towards liberation: overcoming art in order to find the fullness of life. let the machines do poetry, so we can dedicate ourselves to living our lifes."
"Something to do with Emergent Art" by Tim Burke – An introduction to the principles behind the use of emergence in cultural work. Some relevant quotes:
"Artists working with computer graphics have been long been aware that as the sophistication and power of computer animation and imagery has improved, a visual paradox arises. A computer-generated representation of a human being or real-life life form actually seems "less" life-like to human observers as it improves because the distance between how it looks and real-life narrows. Human visual processing will readily perceive life-like properties (like a face) in visual patterns that seem very unlifelike (say, the random patterning of lines on a tree or the shape of clouds) but as the image becomes more life-like, the gap between the inanimate and the organic is exaggerated, both in terms of how it looks and how it behaves. A life-like representation whose every action is prescripted actually tends to look "wrong" somehow to most human observers."
"There is a somewhat undeveloped but growing discussion of "emergent narrative" as an idea. The use of the word is not the strict form of emergence that the Working Group has explored so far: it is very difficult to identify what the agents and environment in a narrative system would be. The term is used to describe the post-facto narratives that can be told about the actions of agents in a creative or dramatic system governed partially or largely by emergent principles. Surprise and the unexpected are the key virtues of how such an environment deviates from a prescripted one."
International Generative Art Conference Webpage – A wealth of information on Generative Art. Most of the papers and talks from 9 years of conferences are available on-line. Be warned, it's organized by year instead of topic, so finding your way back to the same place twice may be difficult.
"Generative Art in the City" by Carol-Ann Braun – A paper from GA2005 considering the esthetic issues raised by public generative art installations at the Festival Premier [website in French] contact on the outskirts of Paris.
Artist Books:
"Artists Books" on Wikipedia – A short history and description, along with a great compilation of links to exhibitions, presses, organizations, and places to buy.
The San Francisco Center for the Book – A place where you can learn about the many arts and crafts of the book. Through workshops, exhibitions and public events, the SFCB promotes both knowledge of traditional book arts and exploration of experimental book forms.
Book Arts Web – The electronic meeting place for all facets of the book arts. The mother of all conversations about making books. Conversations about everything from cleaning your brushes to discussions on glue, paper, everything you can think of. Years of archives.
Bookworks – A commissioning organisation for artists' publications.
Printed Matter – A good resource for all sorts of art publications. They have a good selection of artists books.
Rowan Morrison – A fine arts gallery and bookstore specializing in artist's books, small edition prints, unique paper goods, and
self-published zines. Located in Oakland, CA, but they also have an online shop.
Priscilla Juvelis Rare Books -Priscilla Juvelis Rare Books specializes in literary first editions, especially women authors, 19th and 20th century reform movements, especially suffrage and temperance, as well as 20th century book arts.
Mary Reynolds Collection at the Art Institute of Chicago – An online collection of the bookbinding works of Mary Reynolds. According to Marcel Duchamp, she "was an eye-witness of the Dadaist manifestations and on the birth of Surrealism in 1924…. [and] was among the 'supporters' of the new ideas. In a close friendship with André Breton, Raymond Queneau, Jean Cocteau, Djuna Barnes, James Joyce, Alexander Calder, [Joan] Miró, Jacques Villon, and many other important figures of the epoch, she found the incentive to become an artist herself. She decided to apply her talents to the art of bookbinding."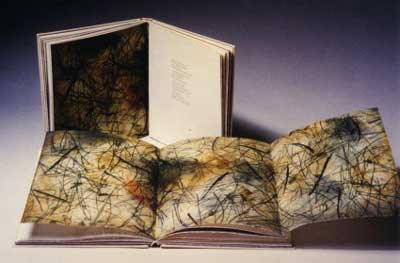 Limited-Edition Books as Multi-Media Art: The Work of Vincent FitzGerald & Co. displayed at Columbia – Review of a Summer 2000 show at Columbia University's Rare Book and Manuscript Library highlighting the work of Vincent FitzGerald & Co. For over 20 years the Manhattan-based press has issued hand-made books representing the collaborations between arists, writers and poets. Click the image to the right to see more images from the show.


Comments »
Additional comments powered by BackType