Today in Oaktown- hope, business cards, and art
May 1st, 2009 by eleanor - art and politics bay area blog events
Oliver and I spent this morning as part of the Oakland Partnership Economic Summit.  We were part of the Showcase Oakland! Expo, "Exhibits of dynamic, innovative local companies that are putting Oakland on the map!" (you know it)  It was actually pretty exciting to see some of the diverse businesses that are here.  Some of the neat people we met were: Revolutionary Foods: organic food in schools, Lohnes & Wright: mapping, and Red Cake Gallery: an online art and design gallery.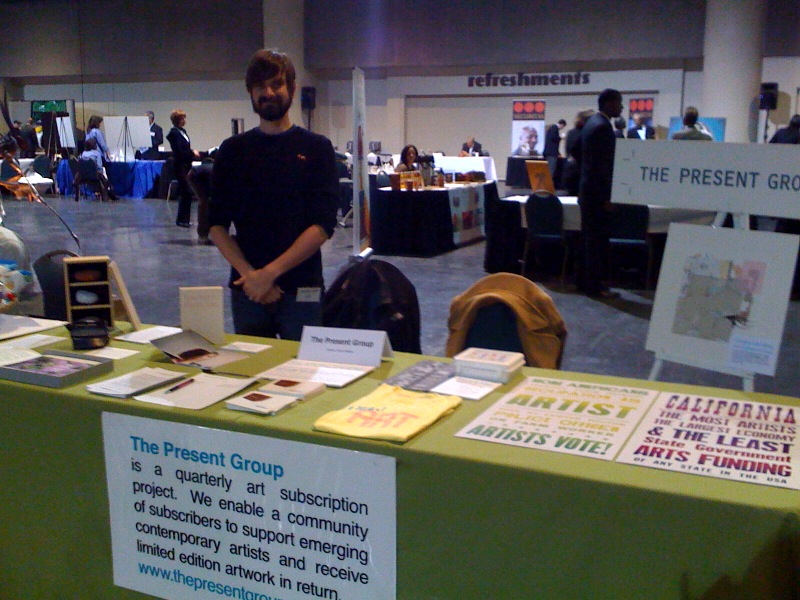 (sorry for the crappy photos- we only had a cell phone camera)
There was a lot of coffee, hand shaking, and business card exchanging.  I always feel bad recycling the big stack of business cards that I amass at these things.  People just love to give them away though.  There is also always the problem of the big stack of pamphlets.  Some have really great info or I think I will get to them later.  But what do you do with them?  Ahh.  Such a problem.  I always wonder about the people who quickly stop at every table and pick up whatever is there to pick up.  Do they go through it all at the end of the day?
We got to listen to the various presentations throughout the day.  The mayor started the day off touting the programs they've already put in place (Oakland Summer Jobs program, Oakland Green Jobs Corps, the creation of a one stop Business Center), re-affirming the goal to generate 10,000 new jobs in a 5 year period, and adding a lot of hopeful, encouraging talk about Barry, the stimulus, and the future (sans a lot of specifics).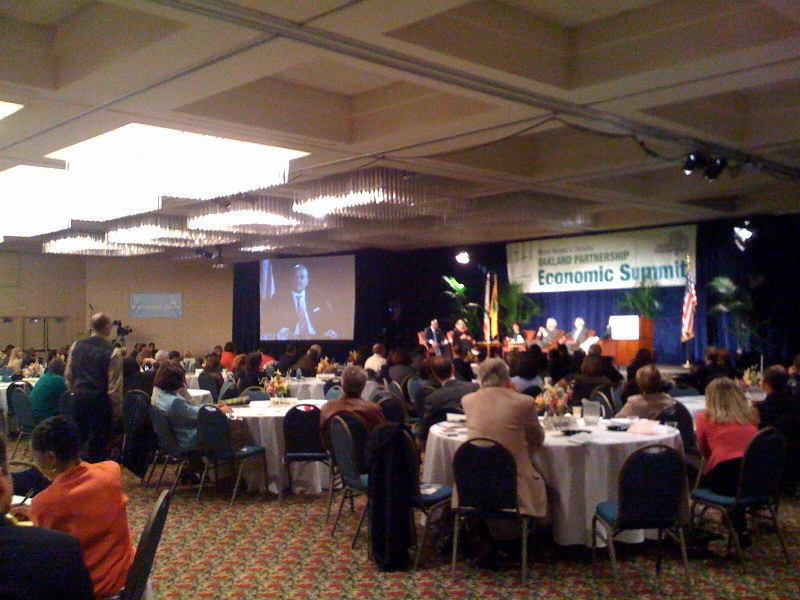 There was also some very sobering facts that City Council president Jane Brunner brought up in the Armchair discussion about the impact of stimulus in Oakland.  She gave some context to the discussion by bringing up the budget problem they are currently facing: If one excludes voter mandated programs and the police and fire departments, they have to cut $83 million from $95 million in programs (that includes libraries, services for seniors, etc).  They therefore have to cut police and fire.  That still seems like quite a task.
And to wrap up a day filled with economic ideas and business partnerships, I though I would point out some neat things that are happening on this rainy and dreary evening.  Some ways to cheer up:
Swarm film night with works by Mills College students
"the first in a series of monthly screenings of experimental, documentary, short, feature-lenth and animated film, video and all formats in between, curated by filmmakers and film enthusiasts from the Bay Area and beyond."
560 2nd St (at Clay), 7:30p
Snuggle up in a beautiful theater: Notorious at the Paramount
2025 Broadway, doors at 7p, movie at 8p
And for tomorrow morning:
(an early) Cinco de Mayo Fiesta Brunch at Borinquena Mex-icatessen
10 am – 3 pm
drink specials: mimosas, cervezas, sangria!
food specials: chorizo and eggs, breakfast burritos, huevos rancheros
582 7th St.

1 Tweet
1 Comment »
Additional comments powered by BackType