art and politics artist resources bay area blog news show me the money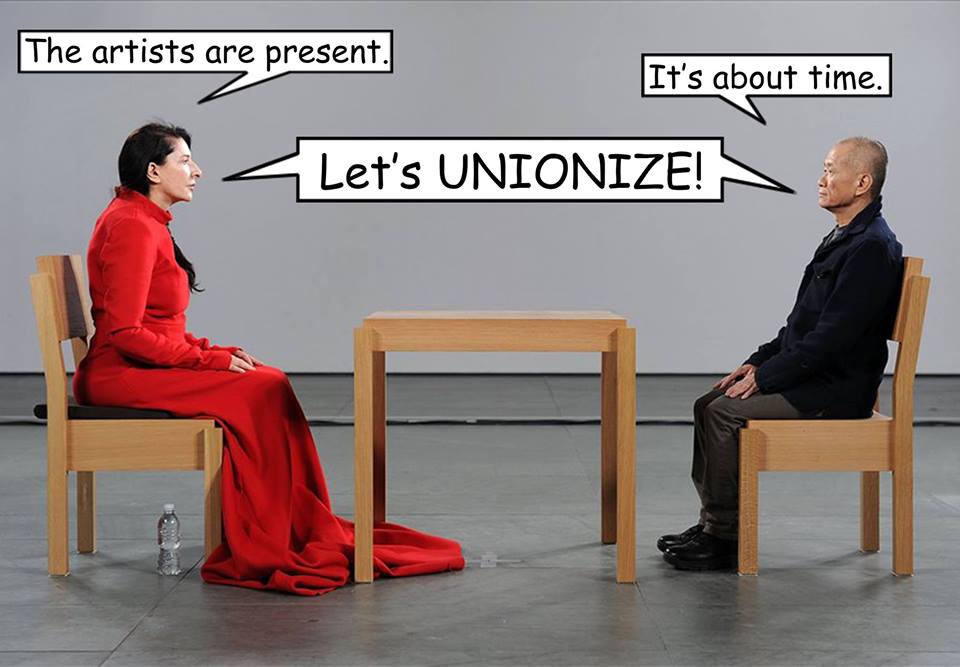 Join local artists, educators, unions, activists and workers to celebrate the recent excitement and organizing success of Adjuncts at SFAI, CCA, St. Mary's College, Mills, Dominican University!
Performances! Installations! Speak-outs! Readings! Food! Art! Books! Socializing! Community-building! Help cultivate a cultural front for ongoing activism in arts, education, work and life.
We'll be there begging people to fill out surveys for Compensation Foundation and trying to show some stats through live action visualizations. We'll see how that goes.

Sunday, March 8 at 3:00pm
2948 16th Street
San Francisco, CA 94103
Participating artists, adjuncts, workers, groups, organizers, cooks, beer-makers and people include:
MC: Irina Contreras
Cara Emily Levine
Danielle Wright
Carrie Hott
Congratulations Pine Tree Podcast (Kate Rhoades, Maysoun Wazwaz)
Jessica Tully
Jessica Lawless
Christian Schoff-Nagler
Jennie Smith-Camejo
David Buuck
Stephanie Young
Ann Schnake
Compensation Foundation 
SEIU Local 1021
Give Me Cred!
Peak Agency
La Pocha Nostra
Kristi Holohan
Lauren C Elder
Amanda Jane Eicher
Chelsea Wills
Catherine Powell & The Labor Archive
Bay Area Strike Debt
Debt Collective
Fight For Fifteen
Chris Higgenbotham
Adjunct activist's agit-prop from around the country
Keith Hennessy
Mess Editions
Words of Resistance
Critical Resistance
Modern Times Bookstore Collective
Joe Berry
Helena Harlow Worthen
Lukaza Branfman-Verissimo
Grace Chen
Zach Ozma
Adjunct Action Bay Area
Amy Rathbone
Francisco Grajales
Leslie Dreyer
SFAI Poster Syndicate
Shaping SF