Print Summit 2010: East Carolina University
September 7th, 2010 by eleanor - art and craft blog events exhibits news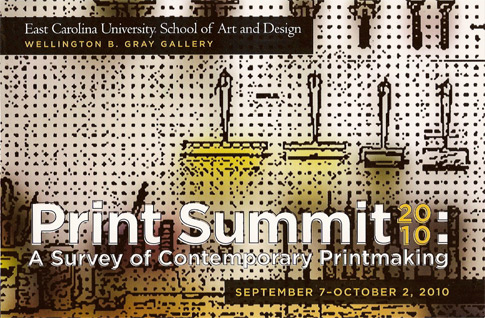 The Present Group will be taking part in East Carolina's Print Summit 2010: a three day symposium consisting of exhibitions, lectures, demonstrations celebrating the diversity of contemporary printmaking media.  We'll be showing Whitney Lynn's DIY Survival Kit as part of  "A Survey of Contemporary Printmaking," an exhibition that includes the work of some of the most influential and important printmakers working in the US today.
Matt Egan and Michael Ehlbeck, professors of printmaking at East Carolina University, brought together five individuals to co-curate an exhibition that would offer a comprehensive look at the innovations and excellence that are shaping the course printmaking today.  Along with many other lectures through the weekend (um, Karen Kunc!), these curators will discuss the collection they brought together and take a look at the current state of printmaking.
The Curators:
Bill Fick, of Cockeyed Press and co-author of "Printmaking: A Complete Guide to Materials and Process."
Beth Grabowski, Professor of Art at UNC Chapel Hill and co-author of "Printmaking: A Complete Guide to Materials and Process."
Rockie Toner, former Dean of the Tyler School of Art.
R.L. Tillman, artist, educator and co-founder of "Printeresting."
Matt Rebholz, Assistant Professor, Southwestern University, Georgetown, TX.
The Details:
The Summit is hosted by the Printmaking Department of East Carolina University in Greenville, North Carolina, September 9 -11, 2010.
"A Survey of Contemporary Printmaking" will be on view at:
Gray Gallery, School of Art and Design, East Carolina University.
September 7th through October 2nd, 2010, Opening Reception 7:00 Friday, September 10th
Panel Discussion for "A Survey of Contemporary Printmaking"
5:30 – 7:00 pm  Speight Auditorium , Room 1220- School of Art and Design
Comments »
Additional comments powered by BackType