TPG2 – Annotated Links
June 4th, 2007 by eleanor - Annotated Links TPG2
FOUND ART:
Duchamp's Fountain – Generally regarded as the first found art object.
Found Magazine – collects and catalogs found notes, photos, and other interesting items, publishing them in an irregularly-issued magazine, in books, and on its Web site. One of Presley's found Polaroids is in the FOUND Polaroids book. He has also contributed to the Dirty Found Magazine.
a breif history of assemblage art - "In 1961 the medium of assemblage was given a boost by an exhibition "
The Art of Assemblage" at the New York Museum of Modern Art. William C Seitz, the curator of the exhibition, defined the term when he wrote that the assemblages were entirely or in part, their constituent elements are preformed natural or manufactured materials, objects, or fragments not intended as art materials.
SWAPATORIUM – Flea markets, thrift stores, antique shops, garage and estate sales, found photographs, collecting, odd finds, swaps and more
Ephemera – "Exploring the world of old paper" – A blog by Marty Weil, an ephemera dealer, consultant, and researcher. Interviews with many different types of collectors.
Junk Pirate – "Found Art Empire"
LAND ART:
Rivers and Tides – a beautiful documentary on Andy Goldsworthy, an artist whose specialty is ephemeral sculptures made from elements of nature. a review of the movie
Richard Long – An artist interested in the documentation of walking, the art of being in a place and subtle interventions inspired from that place. An interview with the artist
Jim Denevan – An artist that makes beautiful sand drawings.
California Current – A 2005 exhibit up and down the Bay area Coastline. The project was initiated to stimulate discussion and awareness in order to foster support for restoration, preservation and sustainable practices for this precious biome, and the greater ocean environment.
"Greenmuseum.org" or "Environmental Art Museum" – a nonprofit, online museum of environmental art, advances creative efforts to improve our relationship with the natural world. They have a large collection of artists making environmental or land art, try to collect writings on the subject, sponsor events, and create a community through discussion, events and workshops.
.
New Crafts Movement – "Of Crafts and Causes" from In These Times magazine – Overview of the crafts movement. Compares Ready-Made magazine with it's " college-educated, streamlined, art-school vibe," to Bazaar Bizarre which is "solidly broke, challenge-the-establishment, rock-kid DIY." Considers the political influences and possibilites of the movement as a whole.
Relational Aesthetics – "The term 'relational aesthetics' was coined in 1996 by French theorist and curator Nicolas Bourriaud to characterize artistic practice in the 1990s. According to Bourriaud, relational art encompasses "a set of artistic practices which take as their theoretical and practical point of departure the whole of human relations and their social context, rather than an independent and private space." from Wikipedia
Lee Bontecou – "Whether heroically scaled or intimate, Bontecou's predominantly abstract work has consistently incorporated figurative, organic, and mechanistic references to states of transformation between the natural and the man-made. From her early sculptures—wall-mounted, three-dimensional objects in which geometric fragments of canvas and other materials are stretched over and fastened onto welded metal framework—to the explosive intricacy of her most recent pieces, many of which are suspended in space, Bontecou's greatest preoccupation as an artist has been to encompass "as much of life as possible—no barriers—no boundaries—all freedom in every sense." from the Hammer Museum website
A review of her 2004 retrospective by Donald Goddard
Tom Phillips
A HUMAMENT – Tom Phillips' eternal work in progress. "With Thames and Hudson's first trade edition in 1980 A HUMUMENT rapidly became a cult classic. It was seen to be a defining product of post modernism linking traditions as various as medieval illumination, experimental poetry and non-linear narrative with the procedures of modern art." from Humament.com

.
Richard Pousette-Dart – "the youngest of the Abstract Expressionists, had his first solo exhibition at the Artist's Gallery, New York in 1941 and subsequently showed with legendary dealers Marian Willard, Peggy Guggenheim and Betty Parsons. Introspective and less gregarious than many of The New York School, Pousette-Dart was highly concerned with the spiritual and the role of the unconscious. He drew inspiration from Native American, African, and Oceanic art, as well as European and American artistic trends and the writings of Freud and Jung."


.
Allan McCollum – "He has spent over thirty years exploring how objects achieve public and personal meaning in a world constituted in mass production, focusing most recently on collaborations with small community historical society museums in different parts of the world." from his website biography
Louise Berliawsky Nevelson - is known for her abstract expressionist "boxes" grouped together to form a new creation. She used found objects or everyday discarded things in her assemblages or assemblies.
.
arte povera-"denotes not an impoverished art, but an art made without restraints, a laboratory situation in which a theoretical basis was rejected in favour of a complete openness towards materials and processes."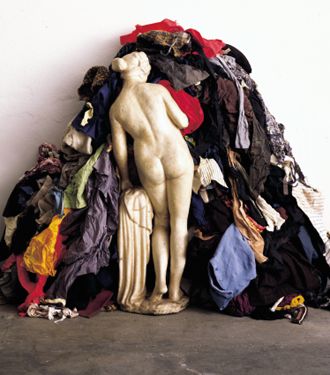 .
Land Art/Earth Art – "The move outdoors also involved a rejection of prevailing modernist ideology, and in particular of the critic Clement Greenberg's notion that the best art had to concentrate on its own formal properties. Artists working outdoors wanted to reconnect the art world and the real world. Their materials were no longer canvas and paint or marble but dirt, sand and steel — even sun and air." from Michael Heizer: A Sculptor's Colossus of the Desert, Michael Kimmelman, New York Times, December 12, 1999
Michael Heizer -"His contribution was to go West. The Abstract Expressionists had linked American art with scale. Jackson Pollock's paintings were said to refer to the Western landscape. Heizer took the idea to its logical next step. He literally made art out of the Western landscape, replacing scale with size: his works didn't just allude to big things; they were enormous." from Art's Last, Lonley Cowboy, Michael Kimmelman, New York Times, Febuary 6, 2005
Robert Smithson – "a pioneer of earthworks, an influential minimalist sculptor, and a brilliant commentator on contemporary art" from a Moca catalogue
Andy Goldsworthy – "He wants rather to embody the beauty of the act of creation in an exemplary intervention. That is why the often irresistible charm of his work does not derive from the final result, but from the beauty of its creation, the deed to which its owes its existence and that remains visible in the end product." from Andy Goldsworthy: the beauty of Creation, by Stefan Beyst
Ana Mendieta – an artist in the 70′s and 80′s who was interested in feminist issues and performed/created a series of "Siluetta" where either her body or the form of her body was documented in the natural world.
Ann Hamilton – an installation artist known for her large scale environments with copious amounts of fabric and various other materials (such as wool, pennies, pigmented dust, etc)
.
OTHER:
worn bricks post on Over Under- ". . .Another blunt piece of detritus washing up to shore smooth and illuminated in color. These old bricks litter the beach for old men to kick. 150 years ago, not even the largest French fleet could defeat this wall let alone kick it mockingly. Yet, the old man kicks a brick."
1 Comment »
Additional comments powered by BackType